Arcade racers are a rarity in this day and age. Cruis'n Blast for the Nintendo Switch comes as somewhat of a breath of fresh air in an era where the genre has skewed more towards realistic racing games. The series was originally developed by legendary game designer Eugene Jarvis and later his studio, Raw Thrills. It first made its debut on arcades and later the Nintendo 64 with Cruis'n USA. Players competed in circuit races across the United States, including tracks featured in California and Washington DC. Despite not being met with resounding success, it succeeded in developing a cult following. In the years to come, the game received two sequels in the form of Cruis'n World and Cruis'n Exotica. Cruis'n Blast was released in arcades nearly two decades after the latter and finally made its way to the Switch this year.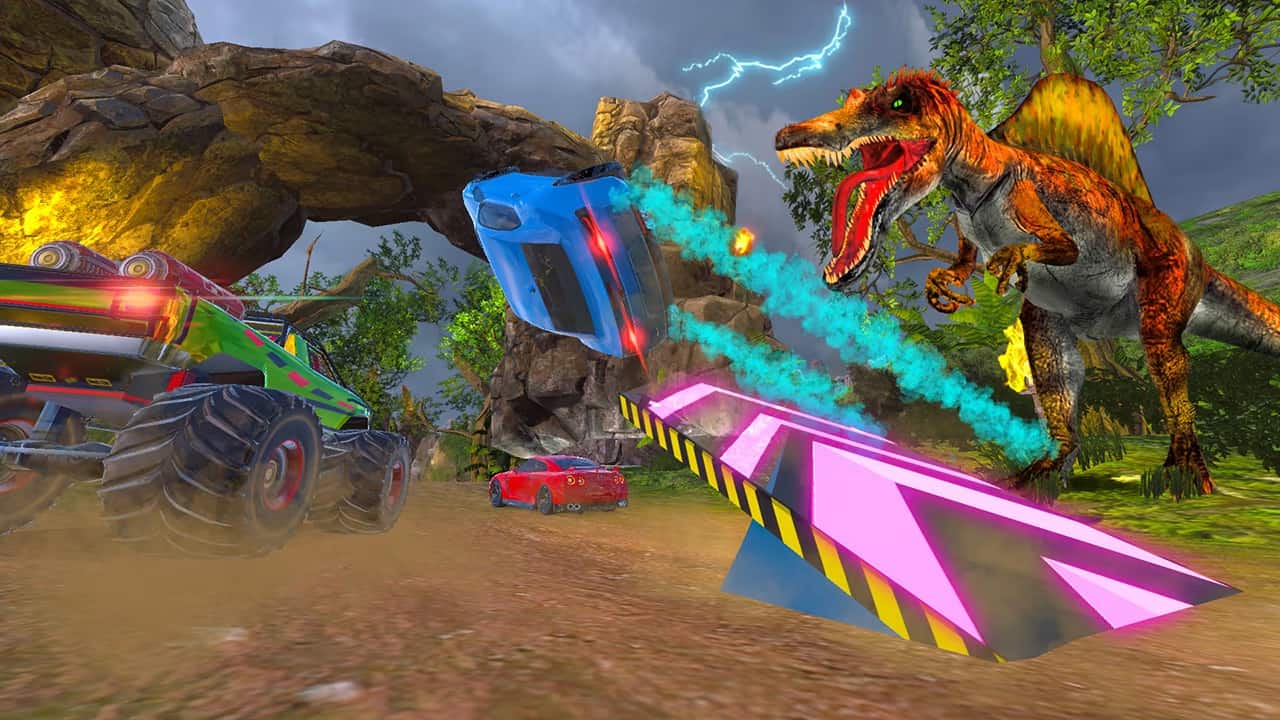 Cruis'n Blast features fast-paced, chaotic races that leave little to the imagination. It's characterized by its accessible and simple mechanics, its stylized and larger-than-life presentation, and its catchy and upbeat soundtrack. The actual racing doesn't require much effort from the player, and it even features the catch-up mechanic sometimes seen in other arcade racers. It's generally a simple game that's designed to be played by both purists and casual fans of racing games on equal footing.
Essentially, you only have to worry about holding down the accelerator. It's possible to get past steep turns with ease just by drifting without the need to let go of the accelerator. The turbo boost further helps in making a comeback, should you get off track or bump into another vehicle. Bumping into other vehicles at high speeds also gives you the opportunity to perform a takedown that sends them crashing and burning. You're rewarded in points for being stylish and creative on the race track. There are also opportunities to perform wild stunts that deft physics.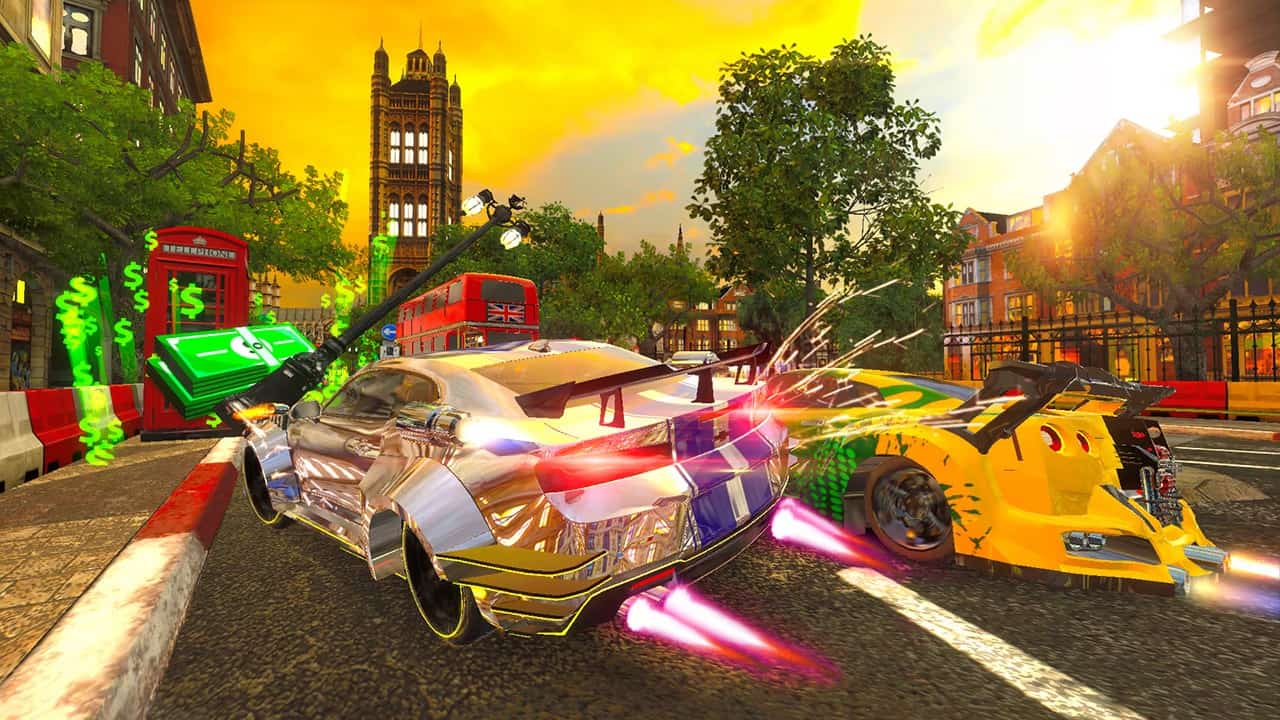 Moments like racing and crashing through other vehicles across a forest surrounded by dinosaurs and meteorites falling from the sky are a common sight in Cruis'n Blast. Explosions ensue and all hell breaks loose, but the race goes on in spectacular fashion. These set-pieces are well-designed and play an important role in heightening the adrenaline rush and sense of chaos. They don't happen at random, however, so it's easy to tell when they occur after having played through a track a couple of times. Still, the scripted nature of these background events doesn't detract from the overall experience.
Cruis'n Blast offers a total of 29 tracks and 23 vehicles. Vehicles include a bunch of sports cars and bikes. But that's not all; you can also play as a hovercraft, a fire truck, a tank, a helicopter, a unicorn, a shark, and even a triceratops! It really doesn't get crazier than this. The tracks are set in actual cities from across the globe, including Madagascar, London, and Singapore. The Switch version features additional vehicles and tracks that aren't found in the original arcade release. However, it's disappointing to see that some of the tracks are very similar in design, right down to their use of set-pieces. Despite there being 23 tracks, one can't shake the feeling that there's not enough track variety on offer here. On the other hand, the vehicles are wildly varied, although they aren't too different in handling due to the simplistic nature of the mechanics. There are also sometimes collectibles to collect, such as keys and cash, which can then be used to unlock some of the aforementioned bizarre vehicles as well as new paint jobs and customizations for your vehicle.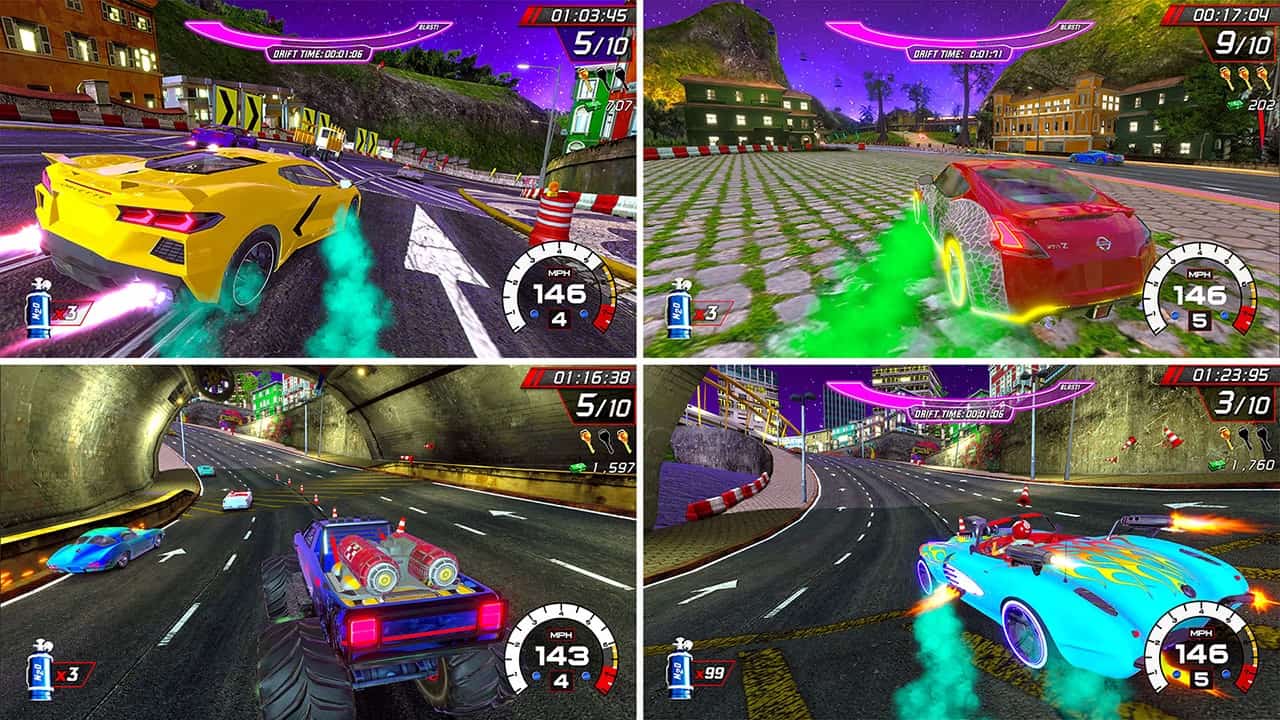 There are four different modes available, both in single-player and split-screen multiplayer: Cruis'n Tour, Classic Arcade, Time Trials, and Single Race. Playing solo gets old fast, as the Cruis'n Tour mode can be completed in a handful of hours. There's little reason to replay, given that the AI doesn't offer much of a challenge once you get the hang of things, even at the higher difficulty. The multiplayer is where the real fun's at, but even that is limited to 4 players via split-screen or local play. The lack of an online multiplayer mode is a major disappointment. It really hurts the experience in a game that likely would've benefited tremendously from an online community.
In the audiovisual department is concerned, given that it's a port of a 5-year old arcade game, Cruis'n Blast looks decent and features some nice ambient lights and reflective surfaces on the tracks. Meanwhile, the soundtrack goes really well with the chaotic joyride theme, making it easy to lose yourself in the experience.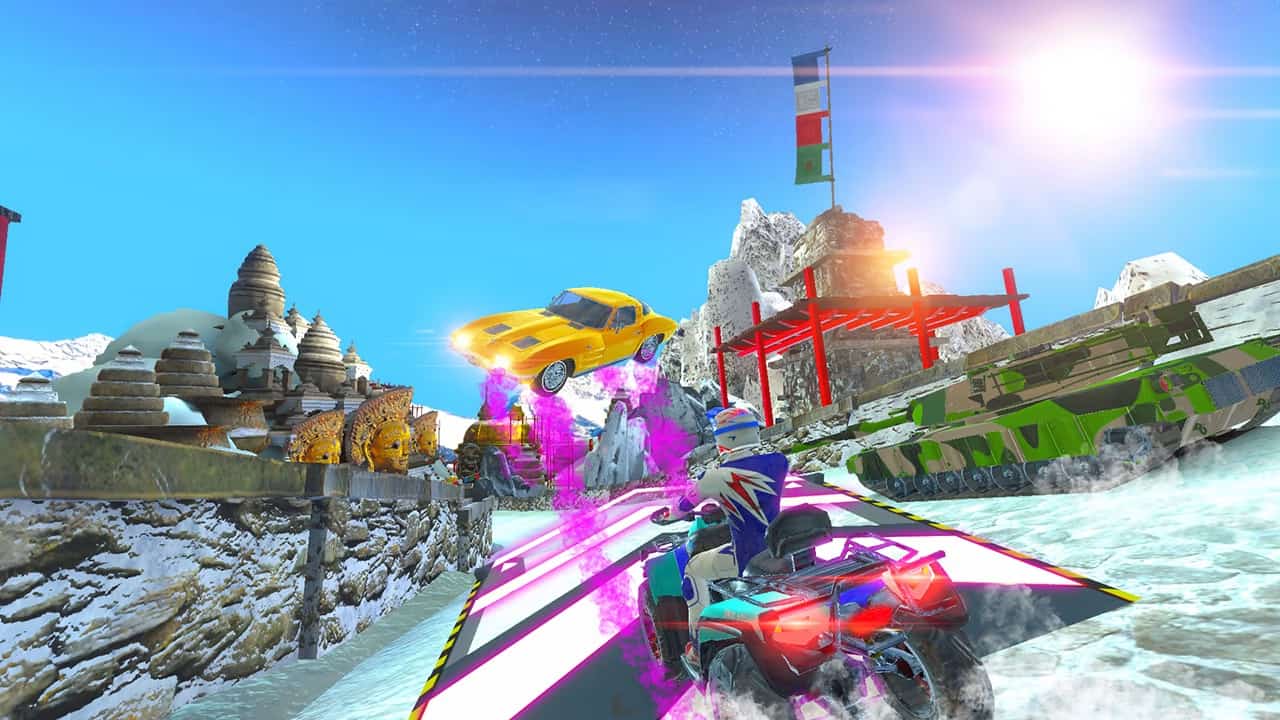 Cruis'n Blast is a fun-filled arcade racer that's easy for just about anyone to pick up and play. That said, it's low on content, and replay value is significantly hurt by the lack of online multiplayer.