Mario Gold: Super Rush was released on June 25 on Nintendo Switch. The anticipation was that this, as the sixth mainstream release in the arcade sports franchise, would be the largest and best Mario Golf yet. However, while the main gameplay concepts and bright visuals have been appreciated, early reviewers have complained that Super Rush lacks content, especially when compared to prior editions in the series. In this guide, we will tell you about the Mario Golf: Super Rush Unlockables. 
Are There Any Mario Golf Super Rush Unlockables
There are a lot of questions on the Mario Golf Reddit about whether certain elements are disguised or just plain absent. Many users are wondering if there are any hidden characters that aren't visible on the menu screen, why there aren't any online tournaments, if there are even difficulty settings to choose from, and if there will be any free updates coming soon to fill in the gaps.
Gamers have also flocked to Twitter to express their dissatisfaction with the game's lack of expected content at launch, comparing it to developer Camelot's last game, Mario Tennis Aces.
Bummed to hear about Mario Golf. Mario spinoffs just aren't what they used to be. Not sure if it's budgetary issues, or mandates that they need to abide by, or what the case is. I was pretty excited for this one too.

"Free updates later" are words that evoke fear in me lol pic.twitter.com/rITu2CmWF1

— Un Cleal (@TheUncleAlShow) June 24, 2021
Fans and critics alike agree that Mario Golf: Super Rush doesn't feel full right now and that players will have to wait for content to be released in future updates. Thankfully, updates are already in work and they will accessible for free according to an announcement made by Nintendo. They have confirmed that these patches would introduce new characters and courses, including one based in Super Mario Odyssey's lovely New Donk City.
Nintendo hasn't given any indication of when this DLC will be released at the time of this writing. This means Mario Golf: Super RUsh now has only six courses, which four fewer than its predecessor, Mario Golf: World Tour on the Nintendo 3DS.
How to Unlock More Courses in Mario Golf Super Rush?
The game's base version includes a regular "Rookie Course," rolling hills of "Bonny Greens," Windswept "Ridgerock Lake," desert-themed "Balmy Dunes," stormy "Wildweather Woods," and "Bowser Highlands" as the grand finale. A seventh location, in the form of a battle arena, is technically available, but it is far smaller than the others and can't be used to play a standard 18-hole course.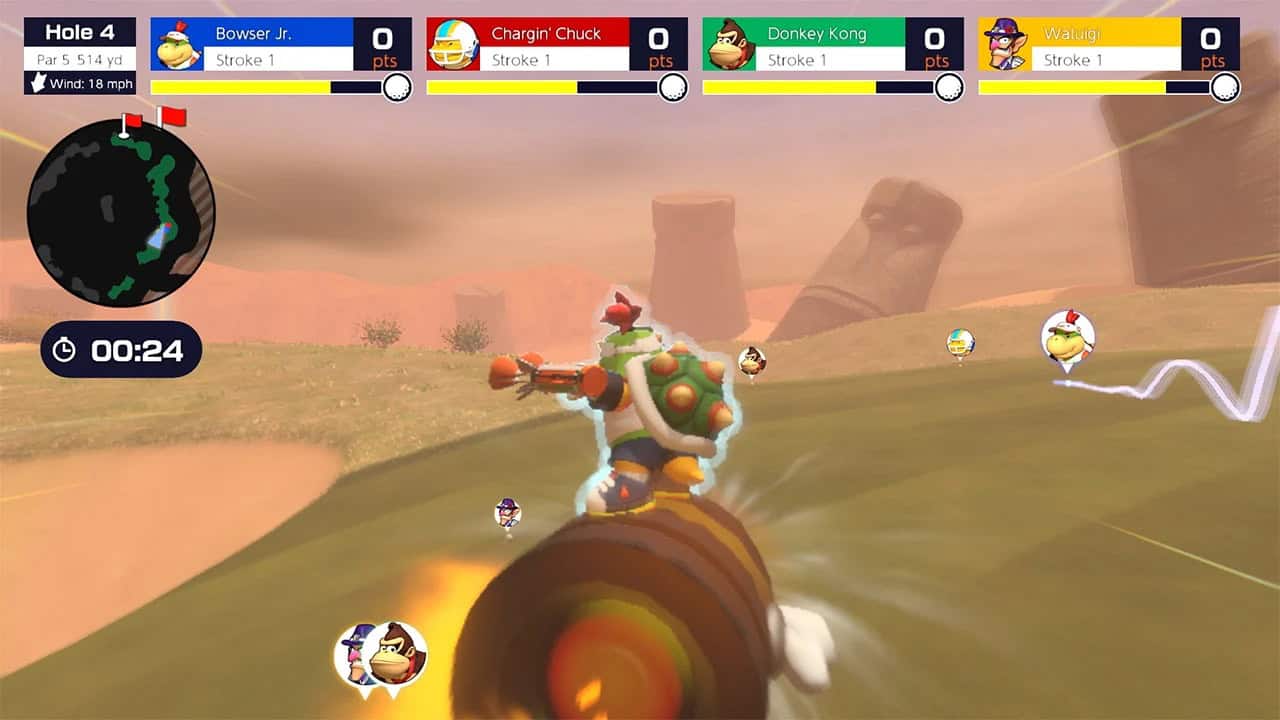 Only the Rookie Course and Bonny Greens will be available in multiplayer when you initially start the game. You will have to earn them by participating in the story-driven adventure mode if you want to unlock the other courses. It's a training mode in which you control your own Mii (rather than any known Mario characters) and join a country club. You will take lessons, play beginner minigames, and more ultimately learn more advanced golfing tactics there.
"Golf Adventure" is a mode that will help you get started in golf and familiarize you with fundamental ideas, including the new speed golf features. As a result, it's understandable that the developers would want you to try out this mode before going online.
If you don't want to wait 5-6 hours to play the adventure mode and want to play with your friends right now you can play the entire 18-hour game on Bonny Greens course. The next course will be unlocked instantly as a result of this.