Bendy and the Dark Revival is the first-person horror game that is a sequel to Bendy Universe. Audrey, the hero of the game works at Joey Studio as an animator.  She awakens in an inky form in the world of the ink machine after being abducted by a mystery man named Wilson who claims to have defeated the Ink Demon 211 days earlier. Audrey must now find her way around the animation studio, making allies with recognizable cartoon characters like a tough Boris, a hardened Alice, and even a "perfect" Bendy. She must also figure out how to leave the domain she is imprisoned in a while avoiding the deadly new Ink Demon.
You will find four bosses in different chapters of the game. These bosses include:
First Boss – Crawling King (Chapter 3)
Second Boss – Lord Amok (Chapter 3)
Third Boss – Alice Angel (Chapter 5)
Fourth Boss – Shipahoy Wilson (Chapter 5)
This article will cover everything you need to know about how to beat the second boss Lord Amok in chapter 3.
How To Beat Lord Amok In Bendy And The Dark Revival: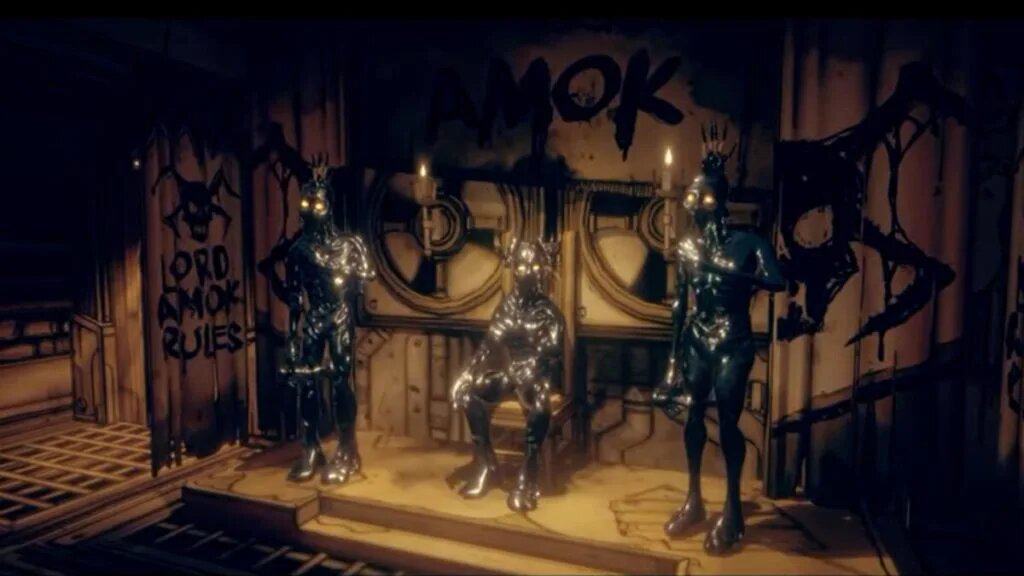 This will be the second boss that you will encounter in chapter 3 of the game. To knock him down you will have to follow these steps:
Lord Amok appears to be one of the easiest bosses to kill in Bendy and the Dark Revival
 He will send his two Lost Ones for you to do the bidding work for him
They are easy to take down since you will only need to give them six successful hits with the pipe
We recommend you stay close and try to attack the Lost Ones simultaneously to hurt both of them since they can leap out of the way of your attacks
Although the Lost Ones may land a lot of solid blows, their damage output is quite low and shouldn't cause concern.
King Amok will attack right away once you destroy the Lost Ones, so be prepared for it. King Amok may deliver these blows in rapid succession when charging with an assault
To knock him down, we recommend you to keep a little distance from Lord Amok and provide 8 whacks with the pipe to stun-lock him
Once he is down you can then collect the loot from the bodies of the Lost ones and Lord Amok
This is how you defeat Lord Amok in Bendy and the Dark Revival.