Forspoken is an action-adventure video game with 54 trophies, including 44 bronze, 7 silver, 2 gold, and 1 platinum trophy.
The game Forspoken is set in a mesmerizing, yet perilous alternate world. Players embark on a quest for vengeance against a deadly adversary and triumph over various trials. To succeed in the game, players must survive harrowing experiences, obtain magical abilities, and conquer great evil. The game includes elements of magic parkour, spellcasting, and puzzle solving. Trophies are earned by fulfilling various achievements, such as visiting monuments, mastering spells, and defeating opponents.
To obtain the Platinum Trophy in Forspoken, players must secure all 54 trophies, including 44 Bronze, 7 Silver, 2 Gold, and the Platinum Trophy. This requires completing all relevant tasks and challenges, such as exploring all notable locations, acquiring all equipment, defeating all abominations, and upgrading all spells. Players must also complete the flashback challenges at the Monuments to Wisdom and form a bond with all the familiars of the Tantas. To earn the Platinum Trophy, players must have achieved all possible in-game accomplishments.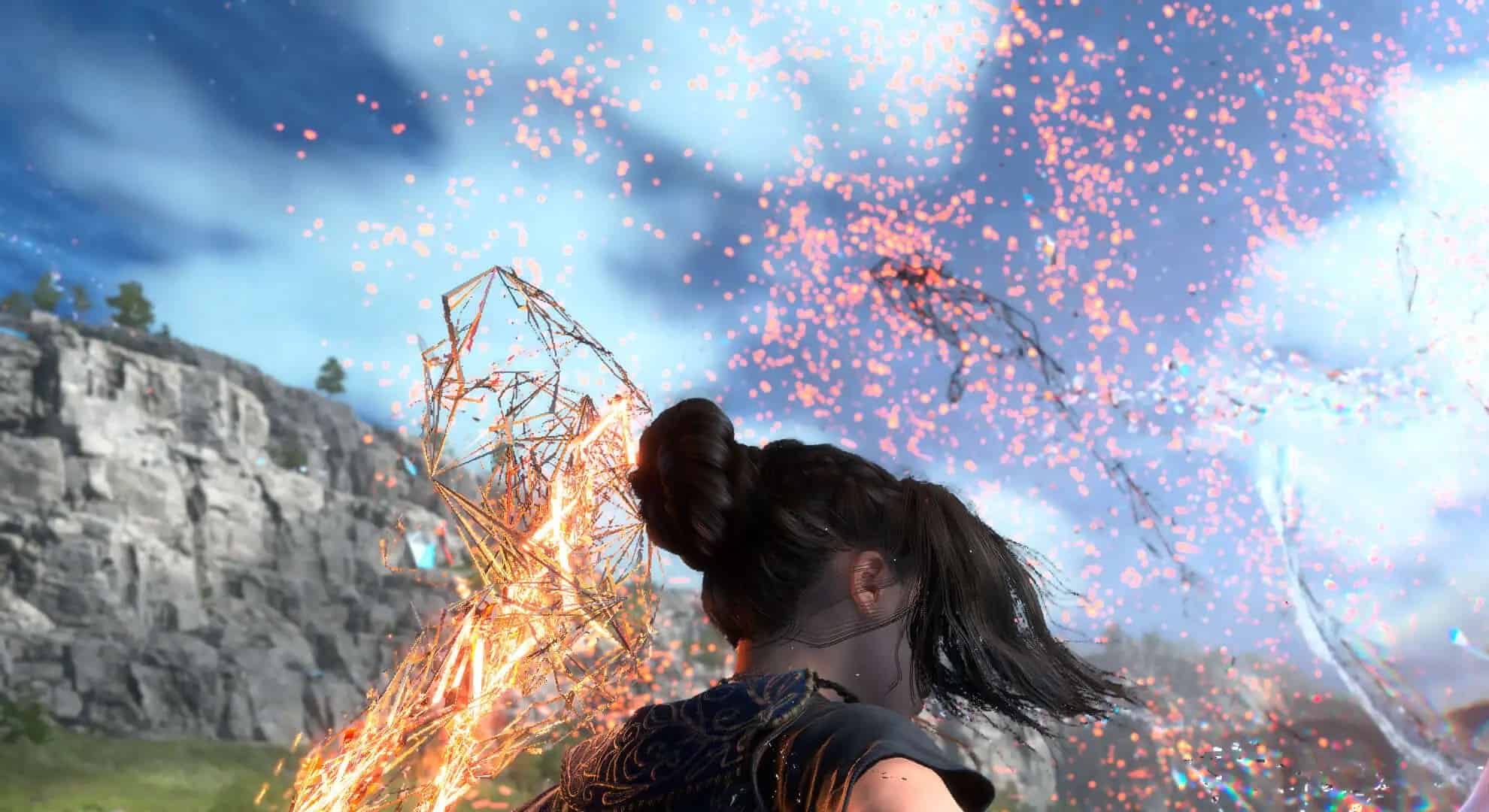 Forspoken Achievements/Trophies List
| | |
| --- | --- |
| Trophy Name | Description |
| Forspoken | Earn every single trophy. |
| Attachments | Acquire a mysterious golden bracelet. |
| Stuck | Journey through a beautiful yet deadly other world. |
| The Interloper | Swear vengeance on a deadly foe. |
| What Must Be Done | Survive a nightmarish ordeal. |
| Might and Main | Emerge victorious from a showdown in a great fortress. |
| Damned If You Do… | Taste the sweetness of peace and the bitterness of disaster. |
| The Hue of Blue | Submit yourself to otherworldly justice. |
| The Truth Will Out | Emerge victorious from a trial to end all trials. |
| Breaking Point | Learn a hard truth, and accept a harder one. |
| None the Wiser | Emerge victorious from a conflict in a twisted reality. |
| Forspoken | Hold the fate of a world in your hands. |
| Awakening | Lay waste to a great evil for the sake of humankind. |
| Rebirth | See to the needs of the people of Cipal. |
| Promises | Make a promise to someone very special. |
| Moves | Earn the praise of the mighty Pilo with your dancing. |
| Remembrance | Say a complete set of remembrances to the departed. |
| A Roaring Trade | Trade poppets for all available items. |
| Outdoorsperson | Set up camp. |
| Pilgrimage: Initiate | Visit your first monument. |
| Pilgrimage: Novice | Visit twenty monuments. |
| Pilgrimage: Adept | Visit fifty monuments. |
| Explorer: Seeker | Visit ten points of interest. |
| Explorer: Pathfinder | Visit fifty points of interest. |
| Explorer: Trailblazer | Visit one hundred points of interest. |
| Unlocked Potential | Spend mana to learn a spell for the first time. |
| Realized Potential | Learn all the spells that can possibly be learned. |
| Call of the Fount: Baptized | Acquire magical powers for the first time at a Fount of Blessing. |
| Call of the Fount: Beatified | Acquire the magical powers available from all the Founts of Blessing. |
| Paragon | Learn every spell. |
| Tinkerer | Craft an item for the first time. |
| Craftsperson | Craft a healing item and two of Frey's original pieces of equipment. |
| Kit and Caboodle | Acquire every piece of equipment (except those only obtainable via sub-quests) |
| Hop, Step, Jump | Perform five Shimmies in a row |
| Hell of a Run | Perform magic parkour for twenty seconds continuously |
| Endless Runner | Travel a total of 100 km (62 mi) using magic parkour |
| I Can Fly! | Use Float to stay airborne for ten seconds |
| Leapfrogger | Jump over enemies a total of ten times |
| Tit for Tat | Perform ten precision counters |
| No Mercy | Perform thirty Killer Blows |
| Knock 'Em Dead | Finish three or more enemies with a single blast of Surge Magic |
| Help Me Out Here | Use the Disperse spell three times in a single battle |
| Wildfire | Defeat an enemy bound by the Tangled status effect with Sila's magic |
| Shocker | Electrocute three enemies at once |
| From Every Angle | Use all four types of Tanta magic in a single battle |
| Through the Eyes of Another: Empath | Complete your first flashback challenge at a Monument to Wisdom |
| Through the Eyes of Another: Seer | Complete flashback challenges at ten Monuments to Wisdom |
| Through the Eyes of Another: Visionary | Complete all the flashback challenges at the Monuments to Wisdom |
| Cat Person | Befriend all the Tantas' familiars |
| Happy Snapper | Show pictures taken at all the photo spots to the children |
| Above and Beyond | Upgrade all your spells |
| Abominizer | Defeat all four abominations |
| Archivist | Unlock 80% of the Archive |
| Barely There | Hide for ten whole seconds—so long that people will forget you were there |
Forspoken is an action role-playing game released on January 24, 2023, for the PlayStation 5 and Windows platforms. It was developed by Luminous Productions and published by Square Enix. The game received mixed reviews upon its release.
The gameplay of Forspoken is designed to emphasize terrain traversal speed and fluidity, as stated by the game's director, Takeshi Aramaki. The game is also described as a narrative-driven adventure by Square Enix. Players are able to freely roam the open-world game environment.
The main character, Frey, has access to various magical spells, and gains experience points after each combat encounter. The player can upgrade Frey's cloak to enhance her combat abilities and stats, and use nail polish to unlock special abilities. Crafting new items and resting at safe locations to restore health are also available options for the player. The game also features "breakstorms," similar to horde mode scenarios, in which waves of demonic creatures attack Frey, followed by a boss fight.