In Genshin Impact there are several weapons that you will find in the Dragonspine Region. You will get a Festering Desire sword from an event, the Snow-Tombed Starsilver claymore from a secret room, and the Dragonspine Spear by completing the "Festering Fang" sidequest. To get Dragonspine Spear you will need Strange Tooth items and in this guide, we will tell you where you can find Strange Tooth in Genshin Impact.
How To Get Dragonspine Spear In Genshin Impact
You will get the "Festering Fang" Sidequest while exploring the Dragonspine region in Genshin Impact. To start this quest properly you will have to find the strange tooth first after that go back to Adventurer's camp just northeast of Dragonspine and talk to Iris and Orban and the sidequest will start properly.
You will need the following things to get the Dragonspine Spear.
Find 3x Strange Tooth.

Gather 50x Starsilver ore.

Obtain 1x Northlander Polearm Prototype.
Where To Find Strange Tooth
As you already got one strange tooth. The location of the other three will be revealed by Orban.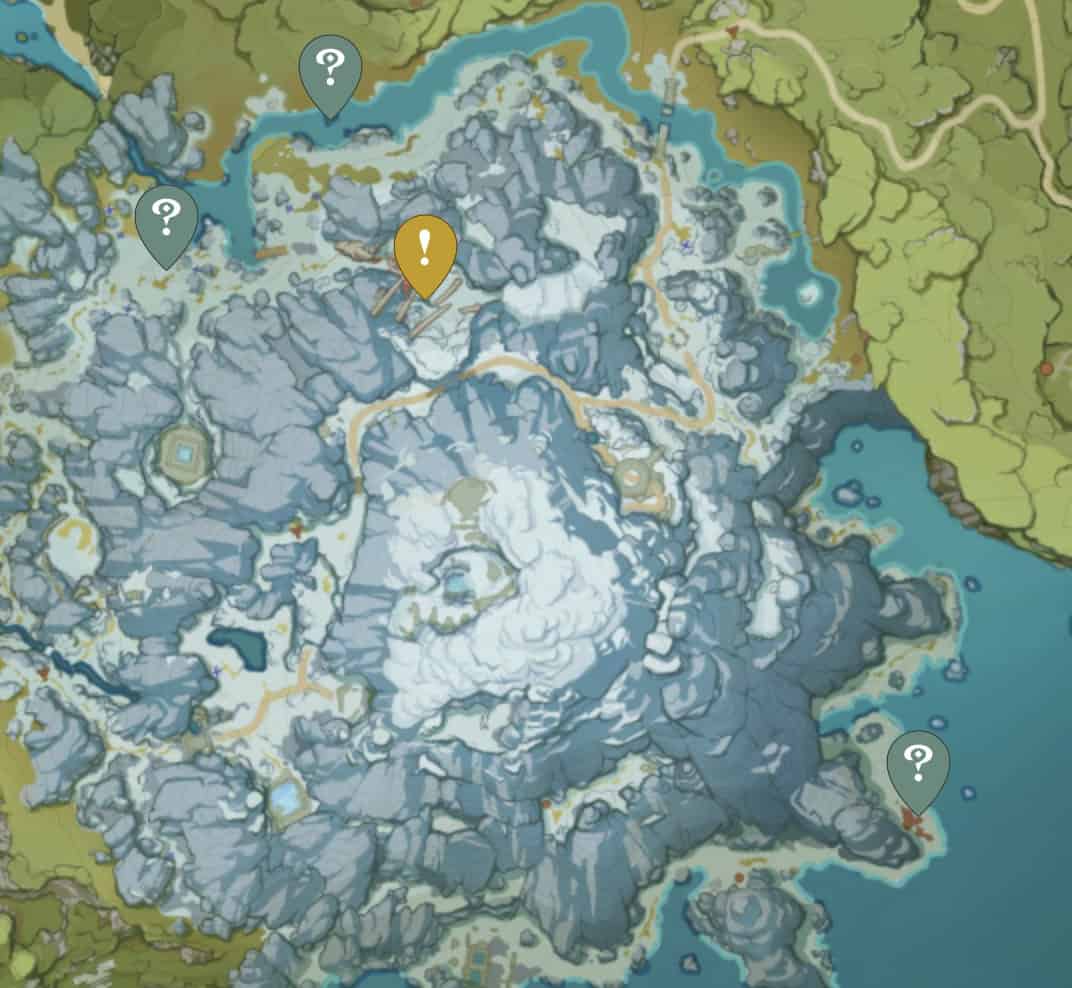 Here's a look at these locations.
Strange Tooth 1 – There are several Fatui Satui soldiers in this area

Strange Tooth 2 – You will have to kill some Cryo mages and then from nearby Scarlet Quartz grab the buff. Destroy the Ancient Rime ice block by using it.

Strange Tooth 3 – Near the dragon's bones head down a crevice.

Strange Tooth 4 – You will have to fight with a Frostarm Lawachurl and grab the Strange

   

Tooth.
Where To Find Starsilver Ore
You will Starsilver nodes all over the Dragonspine. To get Starsilver Ore quickly use a Claymore
Where To Get Polearm Prototype
You can get this weapon crafting material through the following resources:
You can get it from Liyue Souvenir Shop (Mingxing Jewelry) – You will have to give 225 Geo Sigils to buy it- You can only buy one.

You can get it from Spiral Abyss – Go to the 3rd Floor and complete chamber 3 to get it

You will get it from Frostbearing Tree – Level up the Frostbearing to level 8 and get it as a reward.

You will get it from Genshin Impact's weekly bosses – Stormterror, Andrius, and Childe/Tartaglia – you will get it as a drop by killing these bosses.
How To Forge Dragonspine Spear
Return to Orban after getting all the materials. He will tell you to go to the heart of Dragonspine mountain to empower the Strange Tooth. You will find a Red Crystal that looks like a heart, interact with it, and then you will have to fight with several Fatui soldiers. It's better to use a Cryo-based character because it will be easier to crack those Electro shields.
After killing all the Fatui Soldiers, insert the Strange Tooth in the "heart" to enhance it.
Go back to Orban and give him all the materials. He will then forge the Dragonspine Spear Weapon.
He will also give you the crafting diagram if you want to make more of these for refining purposes.
Same as Snow-Tombed Starsilver claymore, Dragonspine Spear has the "Frost Burial" perk.
"If you will hit your enemy with a normal or charged attack there's a 60% chance of dropping an icicle on them which deals 80% AoE attack damage. If you attack the enemies that are affected by cryo will deal 200% attack damage. The effect will only occur once every 10 seconds.
The weapon requires the following ascension materials: Boreal Wolf's Tooth (Domain of Forgery every Tuesday and Friday), Mist Grass Pollen (from Electro Cicin Mages/ Fatui lady mages), and Insignia items (Fatui enemies).
The Crescent Pike gives more damage whenever its effect is active. This BIS weapon is for both Xiangling and Zhongli.