A recent tweet from a Microsoft Game Dev's Twitter account has sparked rumors about a possible summer release for Forza Motorsport (2023).
The Forza series has two mainline games that are usually rotated between developers. The first is the Forza Motorsport series, developed internally by Turn 10 Studios, and the second is a spin-off, Forza Horizon, developed by Playground Games.
While Microsoft never confirmed a release window for the game, they did state that it would launch in 2023 and that it is one of the big Xbox exclusives to arrive in 2023, along with Redfall and Starfield.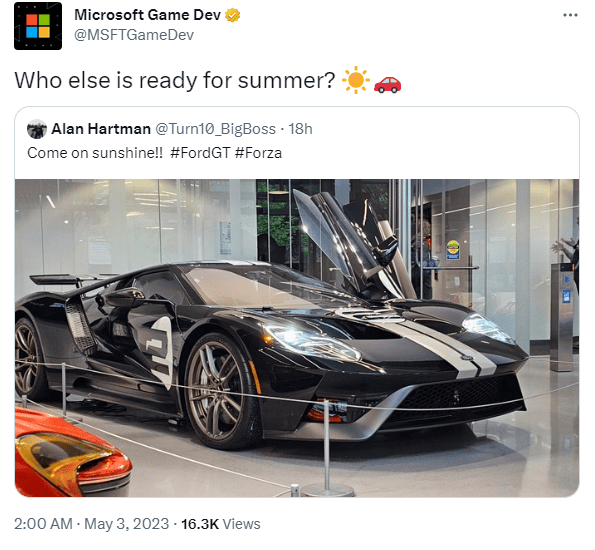 Forza Motorsport (2023) was first unveiled during Microsoft's Xbox Games Showcase livestream on July 23, 2020, with an announcement trailer but no specific release date. In "early development" at the time, the game was confirmed to be launching on the Xbox Series X console and for Windows 10.
The announcement trailer showcased multiple racing teams and also featured teams preparing for another event at the same raceway involving the BAC Mono, as well as crew members tending to a race car. This hinted at the increased involvement of race engineers in the game. As a technical showcase, the trailer emphasized the inclusion of ray tracing for improved reflection and audio detail.
During the 2022 Xbox & Bethesda Games Showcase, a Spring 2023 release date was revealed. The showcase also introduced a fully dynamic time-of-day system, which can alter the ambient track temperature and directly affect tire grip.
While the tweet from the Microsoft Game Dev is far from an official confirmation, it has certainly fueled speculation about a summer release for Forza Motorsport. It would also put the game's launch ahead of Starfield, which is scheduled for September.
Forza Motorsport will follow Forza Motorsport 7, which was released almost six years ago. It was originally reported that it would be a cross-generation release; however, since then, it could have shifted to become a proper current-generation exclusive.