If you have played Genshin Impact, you may know that what is the purpose of Violetgrass. For those who don't know, Voiletgrass is used to make your character stronger. You can do ascension of both Qiqi and Xiyan and make them stronger by using Violetgrass and use either character in your party. In this guide, we will tell you where you can find Violetgrass, how to harvest it, and for what item you can use it.
Where to Find the Violetgrass In Genshin Impact
You can have more than a few locations where you can look for Violetgrass if you want to farm it. You will find the largest bunch of Voiletgrass in the mountains around Mingyun Village. If this area isn't available on your map yet, don't worry just keep going through the story and it will be unlocked for you. If you want to find violet grass early, just go to the Qingce Village, there are six Violetgrasses in this location but they aren't bunched together. The second place to find Violetgrass is near the Huaguang Stone Forest, to farm these Violetgrasses you will have to do some hopping because each of them is located on top of a stone.
The Violetgrass will respawn after every two to three real-world days. So it is better to farm all of the three locations together. This way you can maximize your farm, and you will have to wait less for them to respawn. Credit for the map goes to MapGenie.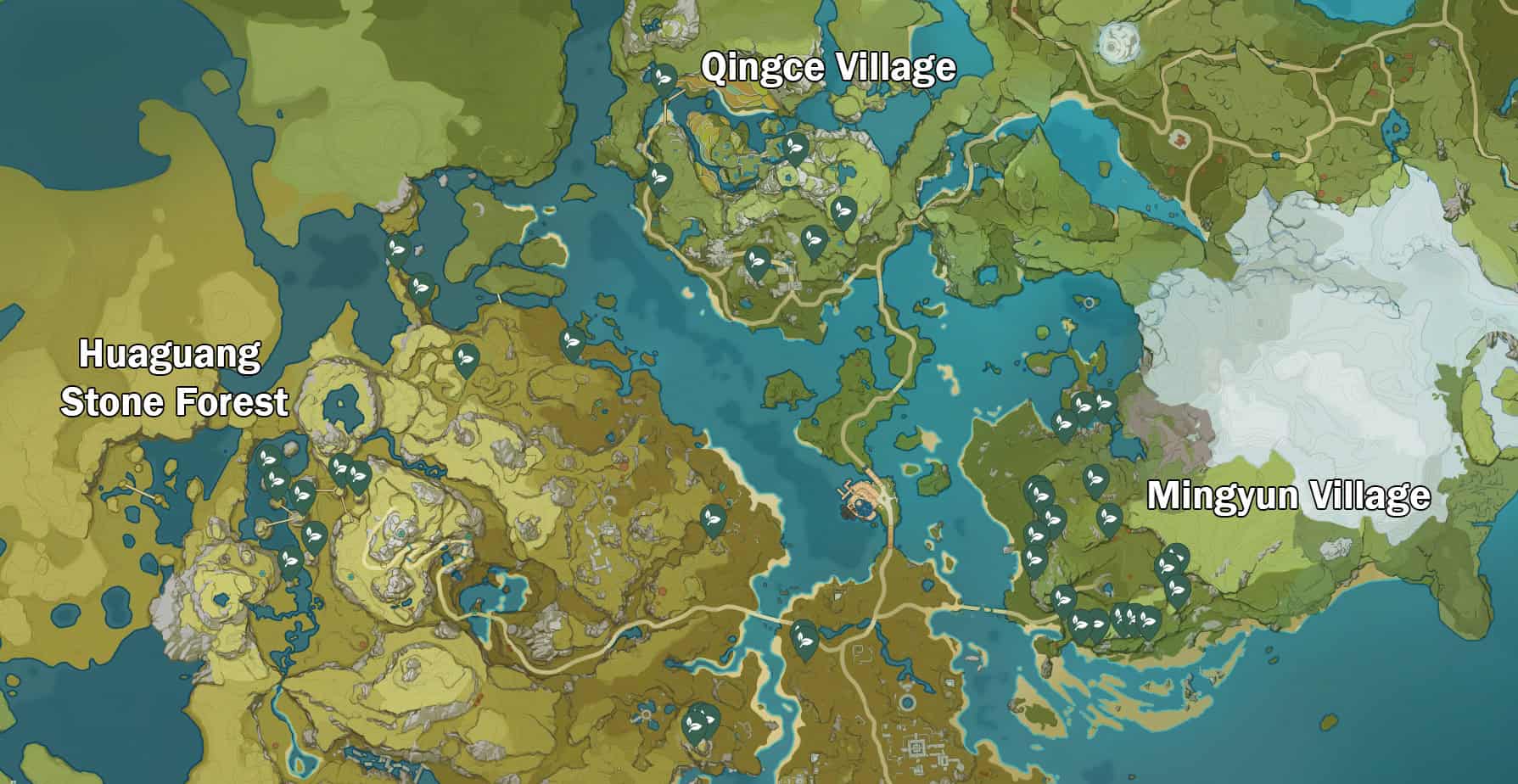 How To Use Violetgrass
Right now, the primary use of Violetgrass is to do ascension of your characters. At this moment, You can only do ascension of Qiqi using Violetgrass, but soon you will be able to do it for Xinyan also. Violetgrasses can also be used to cook Black-Back Perch Stew and Wanmin Resturant's Boiled Fish.
You will need 168 Glaze Lilies to reach ascension 6 for each character, so it's better to do some farming early. It doesn't matter that you have Qiqi or Xinyan right now, you will find one later down the road. It means that you will need a total of 336 violet glasses to do the ascension of both characters.