Ubisoft has announced the latest update to its popular racing game, The Crew 2 Season 8 Episode 1: USST Cities will be available for download starting from 15th March 2023, and promises to bring back the iconic US Speed Tour with a twist.
In this new episode, players will compete in brand-new tracks located in the largest US cities, including New York, Miami, Seattle, and Los Angeles. The slightest mistake could mean the difference between victory and defeat, as players race through twisty urban tracks at breakneck speeds.
The USST Cities episode will feature two new events each week, for a total of 16 events over the next eight weeks. Along with the new events, USST Cities will also introduce a brand-new Motorpass, featuring 50 tiers of exclusive rewards, both free and premium. These rewards include high-performance vehicles, such as the Pagani Zonda F Primary Edition (Hypercar), the Mini Cooper S Checkered Edition (Touring car), the Chevrolet Corvette C8.R, the Audi RS 5 Coupé USST Official Edition (Street Race), as well as vanity items, outfits, currency packs, and more.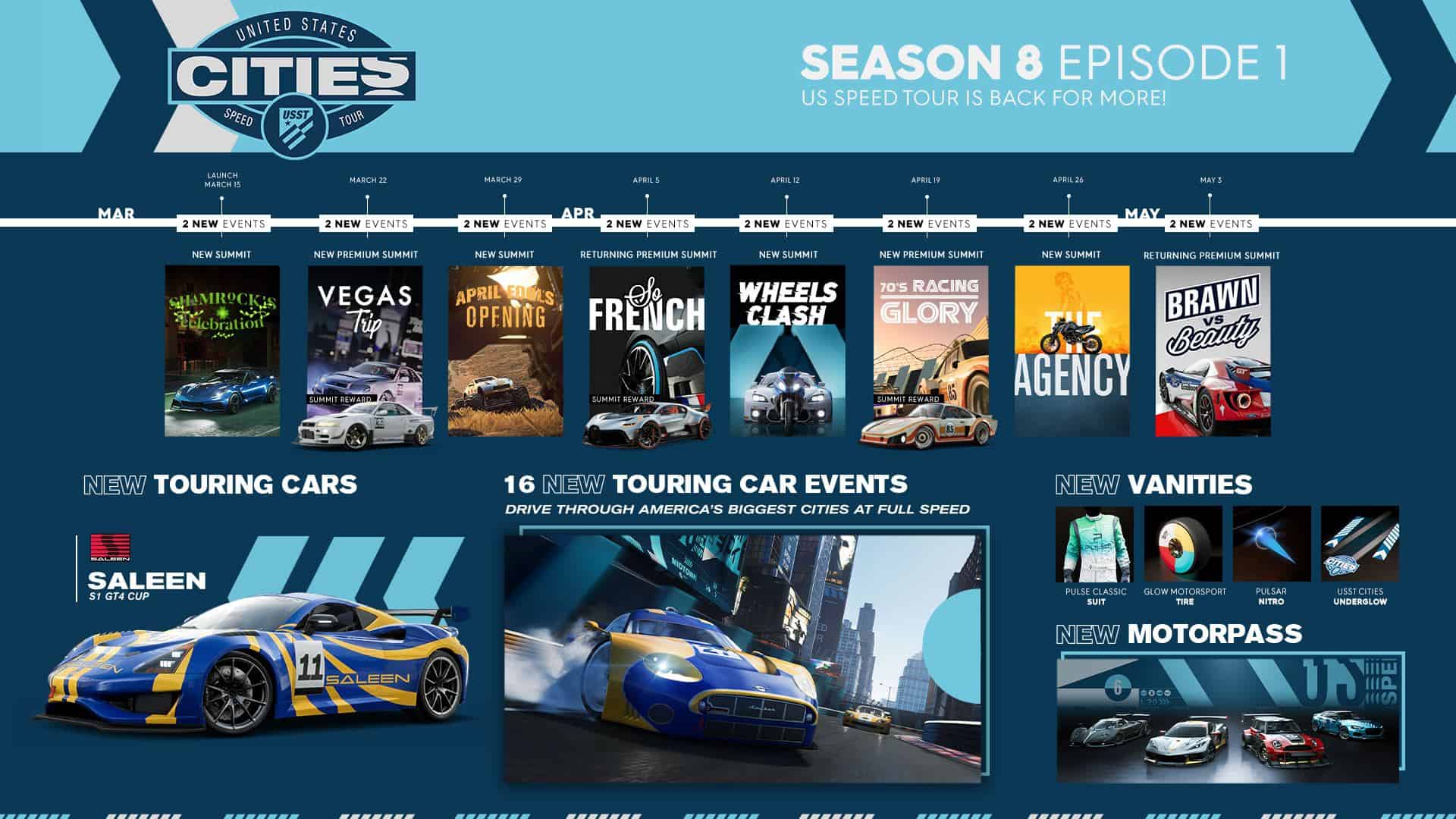 In addition to the new Motorpass rewards, Season 8 Episode 1 will bring back popular vehicles from previous Motorpasses, such as the Bentley Mulliner Bacalar (Street Race), the Jaguar F-Type SVR Coupé Professional Edition (Street Race), the Jaguar E-Type Series 1 Convertible (Street Race), and the KTM 450 EXC Nighthawk Edition (Motorbike). The shop will also continue to grow with the addition of new vehicles such as the Saleen S1GT4 Cup (Touring car), the Spyker C8 LaViolette GT2-R (Touring car), and the KTM X-BOW GT2 (Touring car).
USST Cities will also introduce new customisation options with 40 new vanity items, including avatar outfits, smokes, tyres, under glows, window tints, and more. Players will also get to compete in eight new weekly LIVE Summits, where the best players will be rewarded with exclusive items and vehicles based on their ranking.
For those who love to explore, a new playground will be available in free ride: the Motorflix Arena, located on the shores of Lake Michigan, near Chicago. Players will experience the fun of riding big curves and underwater tunnels right from the start of Season 8.
The Crew 2 Season 8 Episode 1: USST Cities will be available on Xbox Series X|S, Xbox One, PlayStation®5, PlayStation®4, as well as Windows PC through the Ubisoft Store, Epic Games Store, and Steam. Players can also subscribe to Ubisoft+ on PC and Amazon Luna.