In Dragonspine there are over 50 Crimson Agates that you can find while exploring the region in Genshin Impact. In this guide, we will tell you the locations of all Crimson Agates that you can find here.
In the new update version 1.2 of Genshin Impact this new item "Crimson Agate" is released. Which you can offer to the Frostbearing Tree to get rewards in exchange. We have mentioned below their locations and how you can get them in Genshin Impact.
Genshin Impact has introduced several new mechanics in its update version 1.2, just like the Sheer Cold Stat.  This stat functions the same as the Breath of the Wild's Cold stat and the player will have to find a source of warmth before it gets too late. You can get one item that eliminates sheer Cold Stat by offering the Crimson Agates to the Frostbearing Tree.
Crismon Agates operates the same as Anemoculus and Geoculus in Mondstadt and Liyue and you can find them in tons around the Dragonspine region. You will get rewards in exchange for leveling up the Frostbearing tree same as the Statues of the Seven and it is the permanent addition to the world of Genshin Impact.
The max level of Frostbearing Tree is level 12 and the Crimson Agates that the players will get from around the Dragonspine region are not enough to level the Frostbearing to its max level. The players can only get to level 8 by obtaining all the Crimson Agates. So the players will have to take part in Crimson Wish, which will unlock at the same level. There are several new quests in Teyvat introduced by Crimson Wish. You can get these quests on Monday and Friday. 5 new quests will be available on each day it means you will get a total of 10 quests in a week. Completing these quests will let you earn Crimson Agates.
Genshin Impact Crimson Agate Locations
Here is a world map listing all of the Crimson Agate locations courtesy of the wonderful folks over at MapGenie.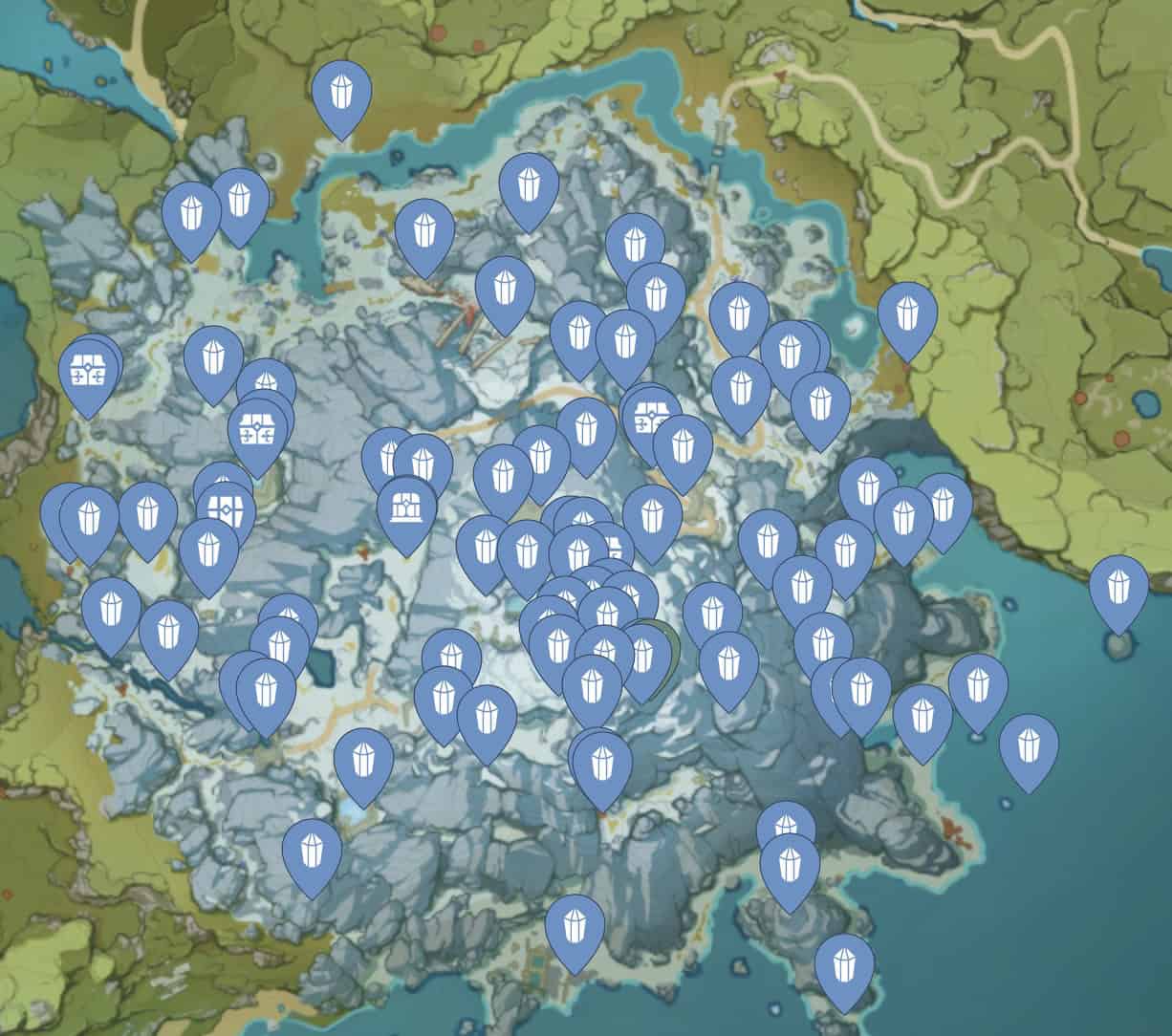 You can obtain over 50 Crimson Agates by exploring the Dragonspine region and you can obtain them in all sorts of ways same as oculi. They might be behind a cluster of rocks or floating in the air sometimes and sometimes to reveal them players will have to take special steps. On the North-east Side of the map, there is one Crimson Agate and to get it you will have to defeat the enemy and drain a pool to reveal an underwater chest. You will find many other Agates by defeating the enemies and inside the chest.
Some Crimson Agates are hidden behind magical ice and you can't melt the ice using a Pyro Character. Instead, you will have to find another new addition of the 1.2 update which is the veins for Scarlet Quartz. Any character will be able to cut through the ice by using it. To locate all Crimson Agates players will have to look out for timed challenges, wind currents, Fire Seelie Puzzles, and bridges.
At last, You will have to complete a Genshin Impact quest called Priest, Princess, and Scribe to get one Crimson Agates. In this quest, players will have to find three golden boxes to unlock a secret room.