You may be wondering what I am talking about when it comes to Bearclaw Camp, but those who played Red Dead Redemption online at any point in time will know the tragedy that lay in this camp. Red Dead Redemption is home to creatures that will kill any living target in front of them. This includes cougars, alligators, and the infamous bear. Red Dead Redemption 2 is home to beautiful locations, but Red Dead Redemption is home to a location that is eerie yet wondrous at the same time. That location goes by the name of Bearclaw Camp.
The map in Red Dead Redemption that showcases the location of Bearclaw Camp.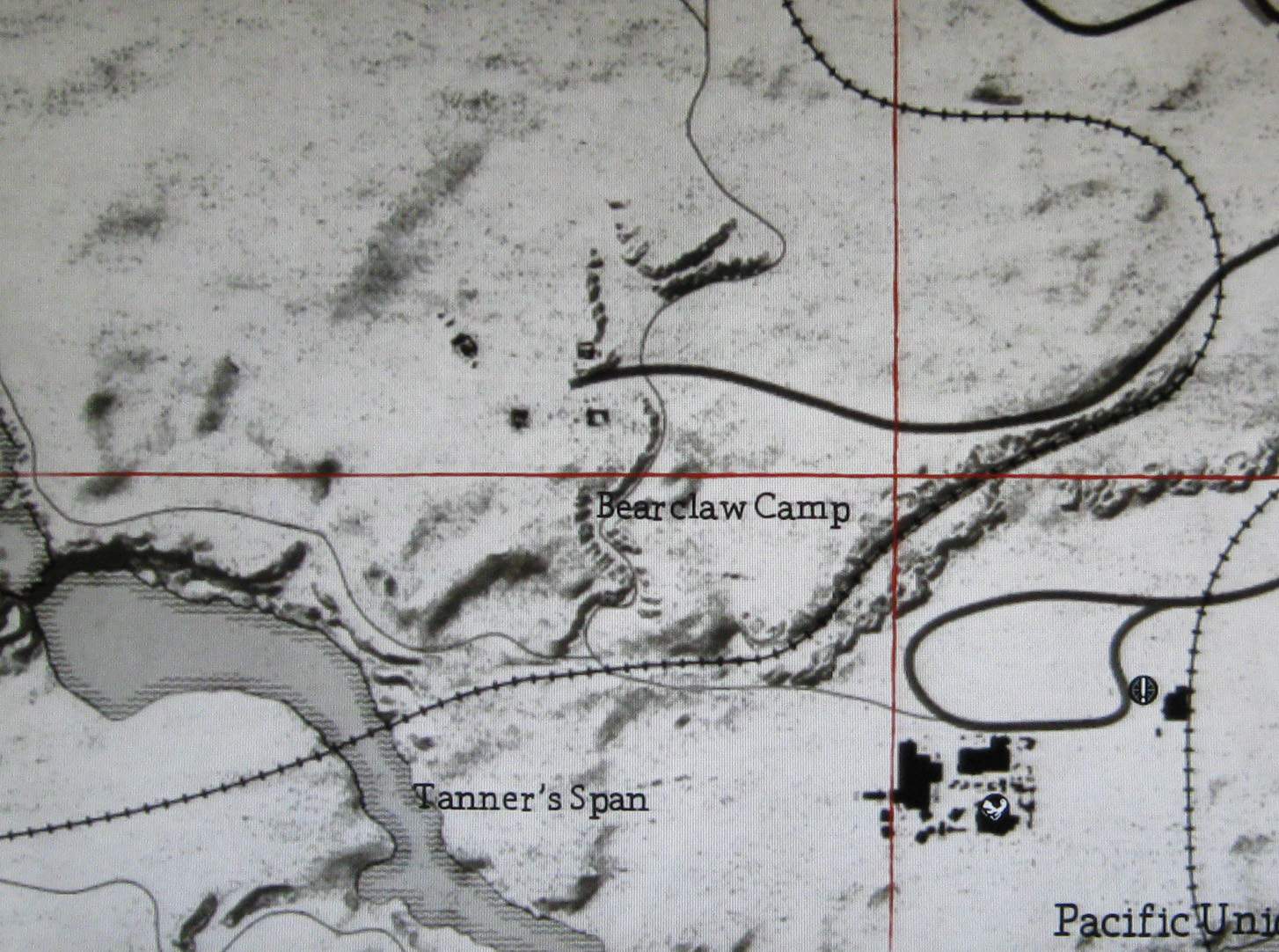 Not many know what happened in the location that is Bearclaw Camp. However, if you ask non-playable characters around Blackwater about it, they will state that it may be a location haunted by Native Americans. In other words, they believe the location is haunted and should be avoided at all costs. This can be explored further, as when Marston goes to the location, a bonfire is always lit, yet becomes unlit once the player leaves. That isn't all, as players can find an abandoned and beat down shack upon arriving at the locale. Players' horses will also act skittish in the area, going into a defensive stance that seems to have the fight or flight sense behind it. However, one of the scariest parts about this location is that grunting and noises can be heard. These noises do not come from the player themself or any other NPC roaming around the area, as they are directly attributed to this location with no source itself. Gamers have tried to crack what the noise may be, but have never found a way to prove that it wasn't paranormal as far as Bearclaw camp goes. Marston will always wonder what happened to the camp when he arrives, being struck with confusion due to the emptiness and openness of the area surrounding it. Long before you could buy farming, gold, and more for Red Dead Redemption 2, were the expeditions to the forgotten lands of odd areas in the original…like this search for fortune and secrets.
What else is Bearclaw known for besides ghosts? Well, fighting to the death of course! This location has one shack with a roof on top of it, albeit a broken roof. Fights on top of this roof often end in death because of what surrounds the area, and not so much of actually being punched. Players used to summon a large amount of bears in this location, due to their increasing spawn rate because of the camp. Around five bears could be at the location at once, surrounding any players brave enough to venture into the abandoned camp. From here, those players would climb on the roof of the shack and punch each other until the other player fell over. Once that player was knocked out and falling, they either got lucky and fell on the side of the roof, or directly into the jaws of a bear who would instantly kill them. Try your luck at the fight and see what you might get, but don't stay too long or you may become bear food.
Whatever the circumstances were, this was a location that online Red Dead Redemption players remember for its weirdness and empty beauty. Rockstar is known to throw in random secrets behind their games and this one was no exception. Similar to UFO's, aliens, and ghosts in Grand Theft Auto, the west is home to everything spooky and scary as well. Perhaps Red Dead Redemption is too old of a game for your liking and you'd like to move onto the sequel. You may buy Red Dead Redemption 2 accounts right here, but don't venture too far into the frontier or you may meet a bearish end. Bearclaw Camp will forever be an unsolved secret, as Rockstar left it in the original Red Dead Redemption, leaving paranormal enthusiasts in the dirt.