AMD is one of the world's largest PC and console hardware manufacturers, with sheer dominance in the console market and ever-rising sales for both their GPU and CPU departments. The company has beaten both Intel and Nvidia from getting a hold of Sony's PlayStation or Microsoft's Xbox consoles for the last two generations, and things are speculated to be the same for the next few generations as well.
From a small team of 8 engineers, the giant has evolved into one of the biggest corporations in the gaming market. Time and time again, AMD has introduced technological innovations that have streamlined the way modern hardware works.
In this article, we'll be going over why AMD is dominating the current market, their story of success behind it and what the future has in store for them.
The Hardware Failure of the Xbox 360 and PS3 Generation
When the Xbox 360, PS3, and Nintendo Wii U came out, they all had their own custom hardware solutions offered mainly by IBM. The problem is that each one of them was also a hardware mess.
Xbox 360 had the Red Ring of Death, which rendered your console completely useless. If you got the error, your only option was to send the console back to Microsoft for repairs or replacement. While Microsoft took no official stance on the issue, an EE Times report stated that the error was caused due to a graphics chip that was designed by Microsoft in-house so that they could cut out ASIC vendors and save on ASIC design costs.
The PS3 had its overpowered and expensive Cell processor. In an interview with GameInformer, major PS creators discussed that the processor had excellent performance, but most game developers could hardly tap into it. PS3's Cell processor only hiked up PS3's price, wattage, and difficulty for game developers to work with the console.
On the other spectrum, we have the Nintendo Wii U with its Espresso processor that left players extremely disappointed when they found out about the console's specifications. The console was supposed to be a match for the PS3 or the Xbox 360. Instead, it featured a 1.2Ghz processor that had about 1/3rd the performance capability of its counterparts.
Because of the overall generational failure of the consoles, companies like Sony and Microsoft were looking for new innovative solutions from hardware manufacturers that would save their future generation of consoles – and AMD provided.
How AMD Solved the Console Hardware Crisis
To understand how AMD toppled the entire console market, you must understand how console manufacturers choose the CPU/GPU for their console's hardware and the process behind it.
All smartphones and game consoles use a highly integrated processor known as a System-on-chip or an SoC. It contains the actual CPU cores of your system, your L1 and L2 caches, a graphics processor, and other components essential to running a system.
Before the Xbox One and PS4 era, these components (including the CPU cores) were usually separated into multiple chips on the motherboard. This involved installing more components and, thus, more routing, leading to a price hike for the hardware.
Eventually, most console manufacturers figured out that integrating a single functional CPU block with separate hardware blocks for each software function was the simple solution to all their hardware problems. The philosophy was simple – the fewer processors on the board, the less complex the routing and the fewer components you have to pay to install.
In a 2013 interview with Gamasutra, Mark Cerny, the lead architect for PS4 and PS5, said, "the reason we use dedicated units is because the overhead, as far as games are concerned, is very low. For example, by having the hardware dedicated unit for audio, that means we can support audio chat without the games needing to dedicate any significant resources to (the CPU)."
As luck would have it, AMD already had a CPU architecture based on that philosophy.
In 2011, AMD came up with the affordable and simple Bobcat architecture aimed at low-power applications, such as embedded systems and notebooks. Unlike other architectures with complex routing, Bobcat just needed a few pipelines to function properly.
When talks about the next generation of consoles came up, AMD gave an essential update to their Bobcat architecture and labeled it the Jaguar architecture we know today. The company offered a much more powerful version of the architecture specially for console manufacturers than their own commercially available APUs.
With the console market being highly dependent on who could cut their costs the lowest on their consoles while still maintaining peak performance, Microsoft and Sony immediately jumped ship to AMD's solution for their Xbox One and PS4 hardware.
AMD's Rocky Rise to Success 
AMD wasn't always the hardware behemoth we know of today, and their rise to success has been riddled with problems and difficulties.
Picture this.
It's late 2006. Intel is going to release its Core 2 Duo series in 3 days which targets several evolving markets and is estimated to overturn the entire PC hardware industry in favor of Intel. AMD desperately needs to do something to one-up Intel and win the market back. What does the company do?
The company purchases the graphics card manufacturer ATI Technologies in a deal worth $5.4 billion – which is 50% of AMD's market capitalization. AMD later found out that they grossly overpaid for the company as it wasn't generating a stable revenue at the time.
From this point on, AMD went into severe debt, their next processor series turned out to be problematic flops, and they made zero efforts to market the processors that did work against Intel. Till 2016, the company faced heavy losses for four consecutive years while Intel generated billions in revenue.
However, things started changing at E3 2016, when AMD introduced their Zen architecture along with the reboot of DOOM. It took another 12 months for chips based on the architecture to appear, but when they did, they shook the entire PC market.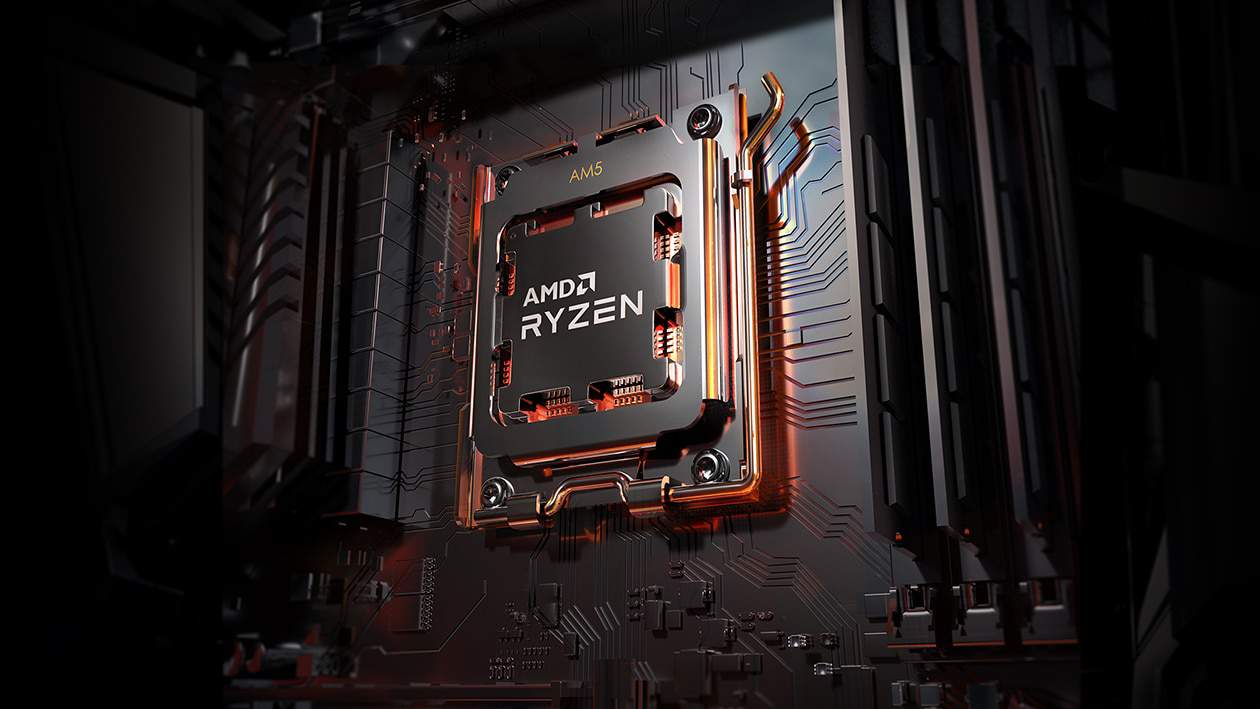 This new processor series was called Ryzen
AMD released the series targeting every x86 desktop market possible, with a single, one-size-fits-all design. Budget users had Ryzen 3, mid-level users had Ryzen 5, high-end users had Ryzen 7, and server PCs had the Threadripper.
In 8 years, AMD's portfolio went from a blank sheet of paper to a comprehensive variety of products, containing everything from $99 4-core, 8-thread budget CPUs to $4,000+ 64-core, 128-thread server giants.
Each year their finances improved. From going under heavy debt in billions, AMD finally cleared all its loans and now has an operating income of over $3 billion.
With a new cash flow coming in, they could afford to upgrade their Zen architecture into Zen+ and then into the revolutionary Zen 2 in the span of two years. The second iteration of the architecture impressed the gaming world so much that it and AMD's graphical architecture RDNA 2 were chosen to power the forthcoming new Xbox and PlayStation 5 consoles.
The Future of AMD in the Handheld Market
The hardware giant is constantly looking for new consoles and gaming devices they can source their hardware to, and one of their most recent ventures has been the Steam Deck. To tell you all about it, we sat down with Glenn from esportsheadlines.com, the author behind the Steam Deck Micro SD buying guide. 
According to him, the Steam Deck has been one of the most exciting releases in the handheld segment, and not even Nintendo itself managed to outshine Valve and their newest project. The device features AMD's Zen 2 CPU, paired with an RDNA 2 graphic architecture and more than enough LPDDR 5 memory to compete with the current gen handheld consoles. In a device that is slightly larger than a Nintendo Switch, players can play most modern AAA titles at a minimum of 30FPS on 720p low settings and get their PC gaming experience with them wherever they travel.
However, since its release, Steam Deck has had a ton of competitors that also featuring AMD hardware, such as Ayaneo Next Advance featuring Ryzen 5 4500U and AOKZOE AI that features a Ryzen 7 6800U – both capable devices of mid-level PC gaming on the go. This might be bad news for Valve, but definitely not for AMD. 
Cloud Gaming is the Next Big Thing
AMD is also dipping its toes in the cloud gaming market that, if successful, can completely change how the gaming world works. The hardware giant is actively working with the new cloud gaming service, Google Stadia, on a hardware-based contract where the company will be supplying Stadia cloud gaming servers with a custom 10.7 TFLOP graphics chip.
For comparison, that's the graphical power of Xbox One X and PS4 – combined. According to Google's projections, players would be able to play any game they own with any device of their choice at 4K 60fps, with plans for 8K 120fps in the future.
The market for cloud gaming seems to be very bright, and so does AMD's future. According to NewZoo, 23.7 million users generated $1.6 billion for the cloud gaming market in 2021 – and that number will only go up.
If AMD continues on this trajectory, it will continue to dominate the gaming world in the upcoming future and completely overtake companies like Intel and Nvidia.